Andre Galvao may be doing his MMA thing right now, but don't fear BJJ fans, his DVD is still out there to help you grow as a Jiu-Jitsu player. This past weekend I had the pleasure to view his instructional and this is a good one…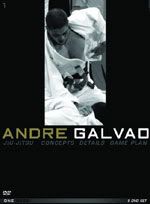 Since there is so little that is bad about this DVD, let's go ahead and get that out of the way. The interpretation throughout the instructional seemed a little sub-par in my opinon. The interpretor's constant stumbling over words and overuse of the word "okay" lead me to believe that the producers did not take this part of the project all that seriously. It almost sounds as if the interpretor is translating the speech directly after Galvao says it and word for word. Well, word for word isn't bad is it, in fact it sounds great, right? Not really, when you consider the words that are included, such as "uhh" or "umm". This by no means seems to be the translator's fault, more of the producer's for the way they had him translate. A simple script would have made this video that much more enjoyable. Well, now that that's out of the way, let's get on to the good stuff.
The instructional is broken down into five discs: The Stand Up Game, The Open Guard, The Half Guard, Passing the Guard, and The back Positon. I will get to all of these individually later, but for now I am going to talk about the set as a whole. First off, the quality of production is very high, the video quality is good, they have a good, little intro, and you can tell that the producers took their time in the post-production process. As far as the actual teaching and showing of the techniques goes, it is great! Andre Galvao is very detailed showing each move specifically. One thing I like is that before every technique there is a brief pre-explanation that Galvao gives, which shows the move and basically explains his reasoning for when and why he would use this specific move. Also, he has a concepts section in each DVD, that goes over basically the bare necessities of each position such as: stance for take downs, how to maintain back control, etc. I found this section is great for beginners who do not know what certain position their body should be in during different times. Also, last, but not least, at the end of every disc there is a "Quick Summary" in which Galvao shows every move on the disc one, last time. I found this extremely helpful in refreshing my memory.
Disc 1: The Stand Up Game
To kick off the set Andre Galvao starts off with takedowns and guard pulling; a reasonable place to start, considering that's where all matches begin. First of all, he talks about the basic concepts of the stand up game: staying low, bending at the legs, not crossing your feet, etc. These are all great for beginners and should be known by everyone. After a bit, he jumps right into what I would call the more fun techniques: flying armbars, cool throws, etc. Definitely the most exciting disc of the bunch. Next Galvao gets into the guard pulling section, starting, again, with the concepts. With this he goes over how situations change with your opponents foot positioning and then he jumps into the moves. All in all this is the DVD that held my attention the best with it's flashy techniques.
Disc 2: The Open Guard
One detail that I think is great about this disc is that it has what a lot of instructionals do not have; a section on maintaining guard. I thought this was awesome and I feel more DVD's should incorporate this section. Before I go any farther let's get one thing straight; if you're looking for more of a both sleeves, spider type open guard, I would probably skip this one and go score a copy of Cobrinha's DVD. In this section you will find lots of butterfly guard and a little reverse de la Riva. So, if that's your style this is the DVD for you.
Disc 3: The Half Guard
The thing I liked about this disc is that it is not just a bottom game half guard disc, but a top and bottom half guard disc. I found this to be good due to the fact that the postitions compliment each other in the sense that if you know what to do on top, the better off you are on bottom and vice versa. I also found it cool that Galvao actually explains reasoning for going to his opponents half guard, rather then just winding up there. The last thing that really made this disc stand out to me was the multiple passes from the outside/deep half guard. I liked this a lot because it seems everyone is on this kick lately and it is a tricky situation to deal with, so these passes are rather helpful.
Disc 4: Passing the Guard
One of the keypoints that really made this disc worthwhile for me was passing as your opponent pulls guard. You don't see this taught in instructionals too often and it's a shame. I feel this is a very important part of the top game to get the heads up on your opponent. Another selling point was forcing your opponents weak side. Galvao discusses the advantage of recognizing what side your opponent is favoring and forcing them to play the other. This was like a little breath of fresh air from other DVDs that strictly show passing techniques.
Disc 5: The Back Position
This is much in the same category as the half guard disc due to the fact that it is not all about attacks, but basically everything you need to know about the back postion. Andre Galvao begins this disc with a section on maintaining the back. Again, it was great to see those little, basic things that a lot of instructionals tend to overlook. I also enjoyed the fact that he showed taking the back from many different positions, not just one or two. It was good to see how it can be done from all over the place. Of course Galvao didn't leave out attacks, the whole point of getting to the back. He shows some great little details of his own in the attacks section. Not to forget a very important part of this position, Galvao throws in some escapes at the end that are sure to get you out of some tight spots.
All in all this DVD is a great buy with few flaws. I would give it a 4.5/5 stars. I hope you guys found this review helpful. As always feel free to let me know what you think. If you are looking to purchase the set you can get it here: http://www.budovideos.com/shop/customer/product.php?productid=28215&cat=&page=1